LABORATORY DETAILS
Geo-Technical Engineering Laboratory


Geo-Technical Laboratory well equiped with number of Loading frames with different load capacities, Triaxial Shear test apparatus with constant and pore pressure gauges, auto compactor, 3 gang consolidometer, SPT apparatus, Field CBR Apparatus, direct shear test apparatus, Sieve shakers and 2 nos hot air Ovens.
Material Testing Laboratory (SM & Concrete)


Material testing laboratory is well equiped with 200T UTM and 1000 kN CTM, Torsion Test machine, simple and cantilever beam frames, Izod apparatus, Hardness testing machines, Charpee test machine, flow tables, Vee-Bee apparatus, Vicat apparatus, Rebound Hammer, slump and compaction factor apparatus, brecat moulds, rapid curing apparatus.
Fluid Mechanics Laboratory


Fluid Mechanics Laboratory furnished with prototype turbines Like Pelton, Franchis and Centrifugal pump, pipe friction, venturi and orifice meters, pressure jet, wind tunnel.
Transporation Engineering Laboratory


Transportation engineering laboratory equiped with Marshal stability test apparatus, dual abration test machine, Los Angels abration testing machine, water bath, ducktility apparatus, flash and fire point apparatus, Benkel Man beam and set of sives.
Surveying Laboratory


Surveying lab well furnished with number of dumpy levels, theodolights, auto levels and staves, chaines, ranging rods, compass, plane tables and total Station.
Environmental Engineering Laboratory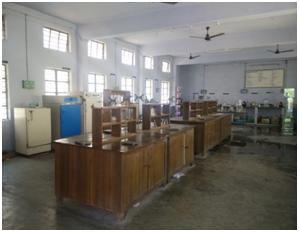 Environmental Engineering Laboratory equiped with BOD & COD incubators, pH and Turbidity meters, Furnace, water bath, distilled water apparatus, jar test apparatus, photo spectro meter funded by AICTE under MODROBS.
CAD Laboratory
CAD Laboratory is well equiped with 50 computers with configuration, Intel Core 2 Duo Processor 2.2 GHz, Intel G31 Chip set mother board, 2 GB RAM, 320 GB Hard Disk, 17" LED monitor. Facilitated with Staad Pro v8i with Staad Foundation, Auto CAD, Draft Sight, SAP, R software, EPA net, Open Office.
Seminar Hall


Department of Civil Engineering having an exclusive Seminar hall with capacity of 120 seats, mounted EPSON Projector and Monitor, PA System.
Engineering Geology Laboratory


Engineering Geology lab Furnished with different types of rocks and minerals, Stuctural Geology models.